RALEIGH, N.C. – The Kenan Fellows Program for Teacher Leadership at N.C. State University is excited to announce that five outstanding K-12 educators from the Triangle area have been selected as 2023-24 Biogen Foundation Kenan Fellows.
These teachers will be part of the upcoming Kenan Fellows cohort of 38 educators statewide and will embark on fellowship projects aimed at developing resources to help students learn about local STEM career pathways and build career-ready skills. During a three-week immersive experience in the summer, the five educators will work closely with industry leaders and scientists from Biogen, Trial Card, Novozymes, and IQVIA (Q2 Lab Solutions).
"The Biogen Foundation is thrilled to welcome the 2023 class of Kenan Fellows, a program that embodies our commitment to making STEM education accessible to diverse populations. We are proud to support this impactful work and grateful for the dedication of the Fellows to changing students' lives through STEM," says Renae Dill, General Manager of Pharma Site Operations at Biogen and a member of the Biogen Foundation's board of directors.
The fellowships were made possible through a grant from the Biogen Foundation. The educators are listed below.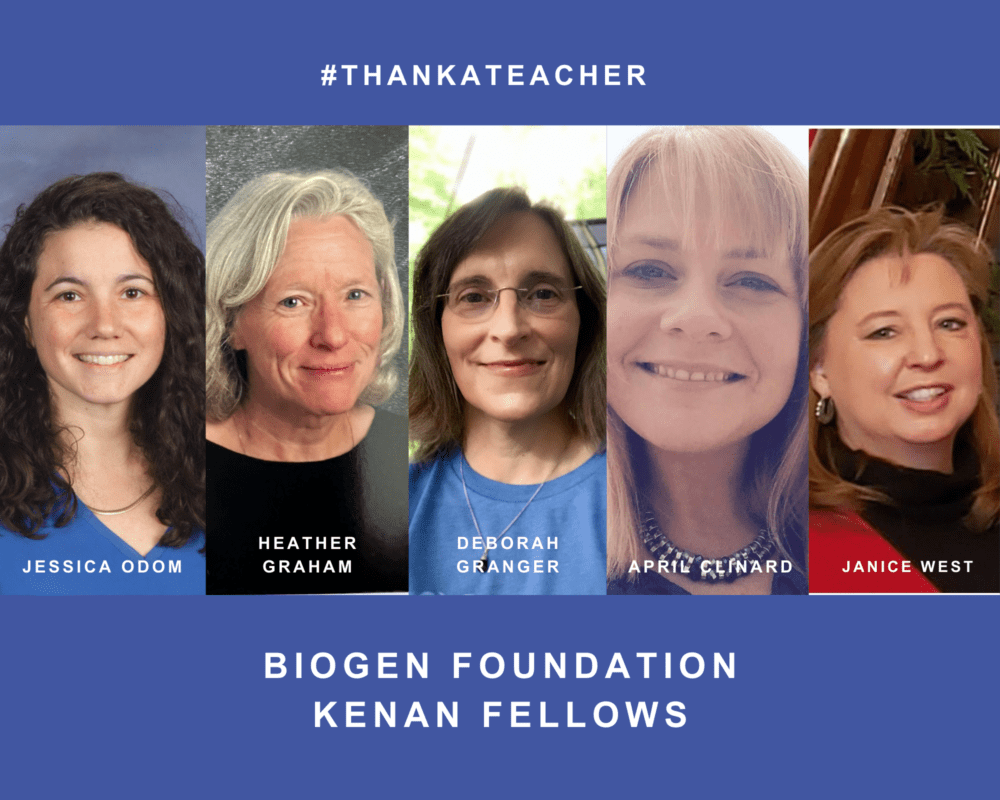 April Clinard, North Carolina Cyber Academy in Durham
Heather Graham, Pine Springs Preparatory Academy in Holly Springs
Jessica Odom, Charles E. Jordan High School, Durham Public Schools
Janice West, West Johnston High School, Johnston County Schools
Deborah Granger The School for Creative Studies, Durham Public Schools
The Kenan Fellows Program awards fellowships through a competitive application process, and as part of the fellowship, the educators will attend a series of three professional learning institutes that focus on project-based learning and leadership development. Importantly, they will continue to remain in their school/district roles throughout the year-long fellowship.
The impact of the Kenan Fellows Program goes beyond the classroom. Educators who complete the program often describe a deeper connection to their communities and significant professional growth as part of a statewide network of teacher leaders.
"We are grateful for the support of industry leaders such as Biogen, which enables us to provide educators with insights into the skills students need to succeed in college and careers and strengthen the ties between education and industry," said Vance Kite, director of the Kenan Fellows Program for Teacher Leadership.
###
About the Kenan Fellows Program for Teacher Leadership:
The Kenan Fellows Program for Teacher Leadership (KFP) is a K-12 education initiative of the Kenan Institute for Engineering, Technology & Science at N.C. State University. The program aims to enhance the teaching profession by providing educators from all disciplines with immersive experiences in STEM industries and research settings, fostering innovation and excellence in education across North Carolina. To learn more, visit www.kenanfellows.org.
About the Biogen Foundation: The Biogen Foundation seeks to diversify access to quality science education and to promote health equity for underserved communities worldwide. Through the Foundation, we strive to make an impact beyond our medicines, focusing our grantmaking on building inclusive science education opportunities and careers paths; strengthening health systems; and ensuring access to food, a critical social determinant of health. For more information, please visit: https://www.biogen.com/company/biogen-foundation.html