RALEIGH, N.C. – The Kenan Fellows Program for Teacher Leadership (KFP) at N.C. State University is proud to announce it has received a grant from the Burroughs Wellcome Fund to enhance diversity, equity, and inclusion (DEI) efforts through teacher professional development.
This grant will enable KFP to further its commitment to DEI initiatives in North Carolina by partnering with two nonprofit organizations and selecting two K-12 public school educators as 2023-24 Kenan Fellows.
"The Burroughs Wellcome Fund continues to value DEI investments across a variety of networks and organizations," says Alfred Mays, Chief Diversity Officer and Strategist with the Burroughs Wellcome Fund. "The Kenan Fellows program with a focused effort on DEI fits well within our funding strategy and extends teacher leadership through wonderful partnerships."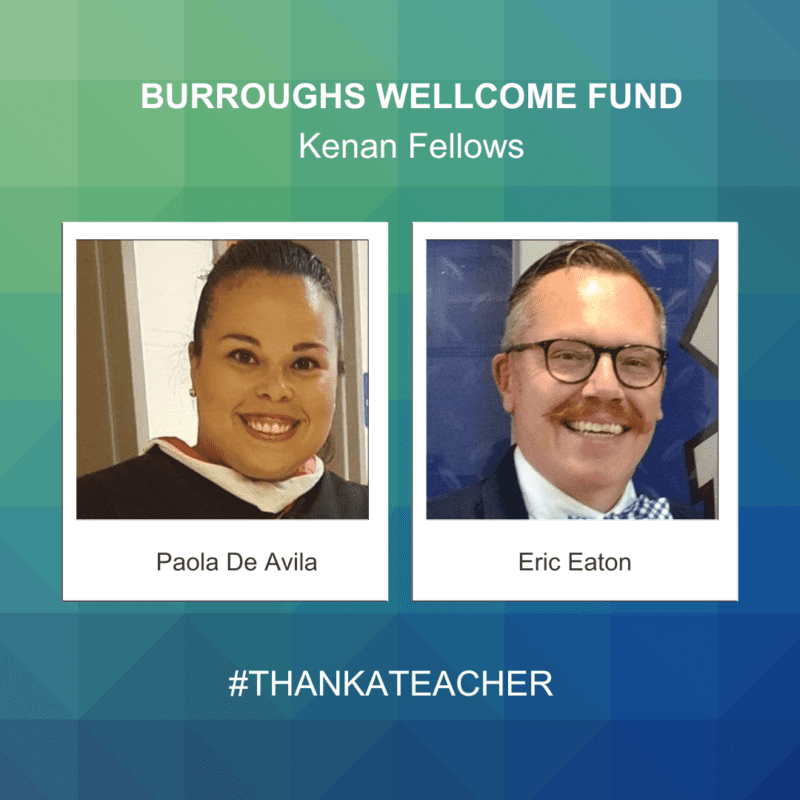 Paola De Avila, an English as a Second Language teacher at Southern Lee High School in Lee County Schools, will be joining LatinxEd to expand educational equity and opportunity for Hispanic educators and students in North Carolina. De Avila said she was excited about the opportunities that being a Kenan Fellow will provide. "I am eager to see how I can enhance creativity in my lesson plans and transform how multilingual students learn and interact with their environment. I also look forward to exploring business and school partnerships that can contribute to the growth of my community," De Avila said.
Eric Eaton, an eighth-grade social studies teacher at Polk County Middle School in Polk County Schools, will work with Southern Appalachian Wilderness Stewards (SAWS) to incorporate wilderness/nature education into the classroom and bring classes outside, exploring the world of wilderness stewardship. Eaton hopes to expand his leadership skills and connections with like-minded educators and partners in the local business community through his Kenan Fellows experience. "I also aim to leverage partnerships that will support hands-on, experiential, project-based, and outdoor/environmental learning opportunities for both staff and students," he said.
This is the fifth consecutive year, the Burroughs Wellcome Fund has provided grant funding for teacher professional development focused on DEI initiatives in STEM education. Previous Burroughs Wellcome Fund Kenan Fellows have developed resources and spearheaded programs to empower educators to champion advocacy and leadership around issues of equity and diversity.
"The Burrough Wellcome Fund recognizes the vital role that teachers play in helping to create a positive school culture where all students feel a sense of belonging," said Vance Kite, director of the Kenan Fellows Program for Teacher Leadership. "We are grateful for the continued support of the Burroughs Wellcome Fund, which allows our educators to develop strategies and initiatives that create more equitable opportunities for all students."
###
About the Kenan Fellows Program for Teacher Leadership
The Kenan Fellows Program for Teacher Leadership (KFP) is a K-12 education initiative of the Kenan Institute for Engineering, Technology & Science at N.C. State University. The program aims to enhance the teaching profession by providing educators from all disciplines with immersive experiences in STEM industries and research settings, fostering innovation and excellence in education across North Carolina.
About Burroughs Wellcome Fund
Based in Research Triangle Park, N.C., the Burroughs Wellcome Fund is an independent private foundation. Its mission is to serve and strengthen society by nurturing a diverse group of leaders in biomedical sciences to improve human health through education and powering discovery in frontiers of greatest need.