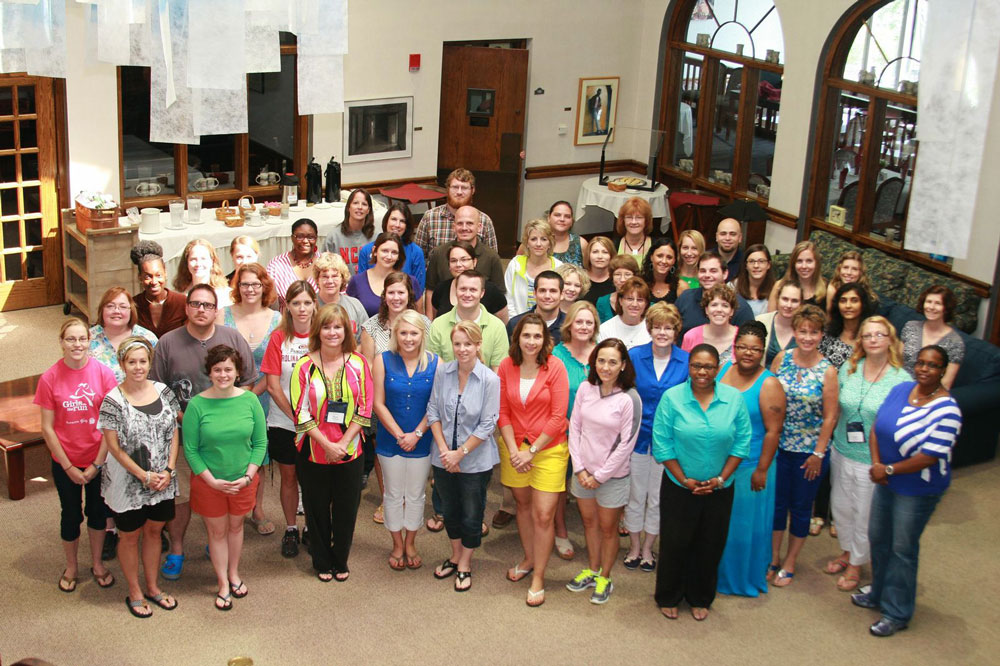 Cullowhee ─ Forty-nine teachers from across the state spent the week of June 24 at the NC Center for the Advancement of Teaching (NCCAT) where they were introduced to cutting-edge educational resources.
It is the first in a series of three professional development institutes the teachers must complete as part of the Kenan Fellows Program.
The teachers, all 2013-14 Kenan Fellows, learned how to inspire students to use the engineering design process and how infographics can stimulate student learning among other innovative teaching techniques.
Speakers included Kenan Fellows Alumni, Kenan Fellows staff members, Jason Lineberger, an education technology consultant and the curriculum and technology coordinator for Cleveland County Schools, and LaVerne Weldon and Carmela Fair of the NC Department of Public Instruction.
Creating a Statewide Teaching Network
The Kenan Fellows Program brings together teachers from different disciplines and every region of the state. The teachers share ideas and best practices for new ways to offer k-12 students relevant and engaging lessons aligned with real-world applications.
"I will always be comforted and encouraged by the time I spend with others who are fighting the good fight," said Kenan Fellow Kelly Hines, an elementary school teacher with Guilford County Schools. "I am excited that this was just the onset of my Kenan Fellowship and that I have multiple opportunities to build these relationships over the coming time."
Professional development sessions are designed to support Kenan Fellows as they complete the formal year-long Fellowship program and become ambassadors of excellence in education. The heart of the Fellowship is a five-week summer research project the teachers conduct in partnership with a university researcher or an industry professional.
Working under the guidance of a mentor in a real-world setting, teachers see first-hand how STEM skills are applied in everyday use. The program strengthens the connection between education and industry and helps better prepare students for the 21st Century workforce.
"We live in an amazing location, full of resources," said Erin Lawrence, a Wake County middle school teacher who is working on a research project at Biogen Idec over the summer. "I want to find, and then use, the amazing resources that are at our 'teacher fingertips' in order to enhance student learning."
Visit our Facebook page to see pictures from the professional development institute.
*Pictured 2013-14 Kenan Fellows