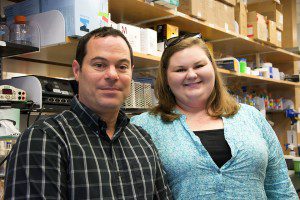 I began this school year feeling more prepared and inspired than ever, a feeling which I owe to my experience as a 2015-16 Kenan Fellow.
Over the course of a summer, I connected with outstanding educators across the state, learned new laboratory techniques, and gained a sense of unexpected autonomy in the UNC-Chapel Hill lab of my mentor, Dr. Brian Strahl.
Beyond the lab work, the most interesting part of my internship was talking with postdoctoral fellows who intended to teach in a university or college setting. Because I teach an AP course, we were able to share resources and bounce ideas off of one another. Using each other's resources, we were able to develop some great curriculum for our courses.
My internship, my new skills, and my new knowledge have brought more clout to my classroom content. My biggest take away is my appreciation for those who supported my research efforts and were extremely patient as I asked a million questions.
I am grateful for the professional advancement opportunities afforded to me by the Kenan Fellows Program. The biggest change I've implemented this year is my mindset; I am much more willing to challenge my students to think, make mistakes, and work together in solving difficult tasks.
Personally, I'm willing to try new activities, and classroom management tools —things that I had been afraid to try before. Having taught my content and curriculum for four years now, it has become easier to identify and address misconceptions, while also extending and connecting my content to other subject areas. With the implementation of new ideas, and the creative influences of my Kenan fellowship and current student teacher, this year has required me to expand my instructional toolbox and embrace change.
2015-16 Kenan Fellow Brooke Sauer teaches AP Biology and Biology at Durham School of the Arts in the Durham Public Schools system. As part of her Kenan fellowship, she interned in the lab of Dr. Brian Strahl at UNC-Chapel Hill. Dr. Strahl supported her fellowship.