RALEIGH, N.C.⸺Eighty-seven educators from the North Carolina mountains to the coast participated in a series of immersive summer site visits to local companies and industries as part of the STEMwork Professional Learning Institute, an initiative of the Kenan Fellows Program for Teacher Leadership (KFP) at NC State University.
Building Education/Industry Partnerships
STEMwork is a collaboration between KFP and more than 20 industry and foundation partners and more than a dozen school districts across the state. The blended professional development program supports K-12 educators in establishing and sustaining education-industry partnerships with local STEM employers while providing a framework for taking those partnerships into the classroom through Project-Based Learning (PBL).
The Scholars who participate in STEMwork learn about the varied kinds of jobs that are available in their communities and, with the guidance of skilled teacher leaders, they learn how to use this knowledge to breathe new life into the subjects they teach.
19 Teams Statewide
A total of 19 STEMwork teams are participating in the 2022-23 program year led by a group of trained STEMwork Facilitators, who are KFP alumni. Following the in-person site visits, the educators are completing a series of eight online modules designed to guide them as they develop and implement a PBL unit based on the local industry connections they made this summer through STEMwork. Their final products will be presented during a showcase in the spring.
"The Kenan Fellows Program continues to do amazing work across NC," said Dawn Braswell of Siemens Energy. "STEMwork is another strategy to positively impact educators and students."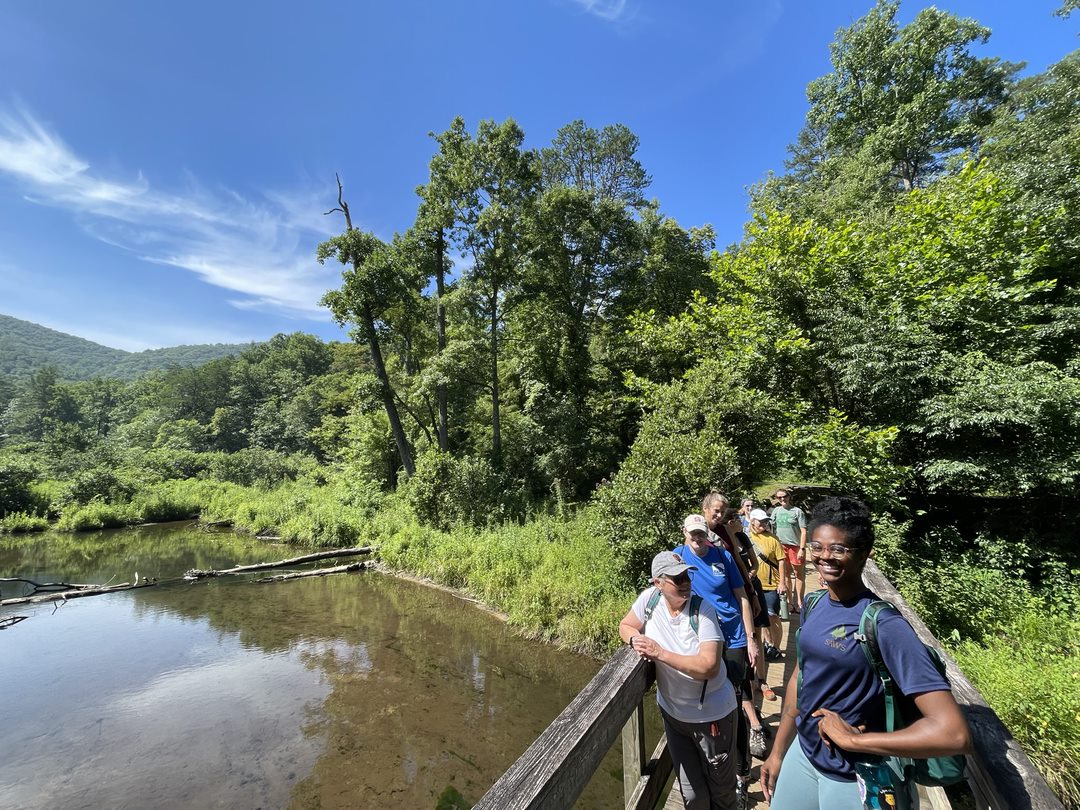 Going Behind-the-Scenes at NC Companies
The institute kicked off with an in-person orientation in June, followed by two months of visits to local facilities across the state. Partner industries that opened their facilities to educators varied from textile plants and construction companies to film production and cold storage warehouses.
Educators in Western NC, for example, toured the Harrah's Cherokee Hotel & Casino Resort, where they learned about local career pathways for students. Teachers also hiked through the Pisgah National Forest with the Southern Appalachian Wilderness Stewards (SAWS) to learn about local conservation efforts that they could incorporate into lessons on environmental science.
"Seeing the inner workings of the Harrah's Casino was fascinating," said STEMwork Scholar Rebecca Whitter, a sixth-grade science teacher in Buncombe County. "I had never been to the casino and was not aware of the tremendous impact it has on the community."
During each site visit, the educators saw firsthand how workers in these facilities rely on essential skills such as communication and collaboration to get their jobs done, as well as how the work being done in these facilities ties into the classroom content they teach.
Gaining Hands-On Experience
Educators in Central NC spent an afternoon at AirWing Films in Southern Pines, where they learned how drones are used in video production and gained hands-on experience learning how to operate the equipment. At Spiritus Systems in Aberdeen, the educators observed the manufacturing of military and police apparel and watched employees as they measured, cut, and sewed yards of fabric. The teachers also toured a worksite with Barnhill Contracting Company in Fayetteville and saw how asphalt is mixed and used in road construction.
"It was fun being behind the scenes and I can see how some of these processes can be replicated in our classrooms," said STEMwork Scholar Susan Garges, who teaches in Moore County. "For example, we could do a unit on road construction when we teach earth structures and rock formations."
Making Connections for Students
Alyssa Stafford, a teacher in Edgecombe County, was among the team of Eastern NC STEMwork Scholars who visited the Domtar paper mill in Plymouth and Grover Gaming Inc. in Greenville. Stafford said she was fascinated by the many connections she saw between what she teaches in her classroom and the work being done in the local industries she toured.
Domtar seemed really interested in how teachers could help them find local talent and help students build the soft skills necessary to maintain a productive and enjoyable workplace

STEMwork Scholar Alyssa Stafford, Edgecombe County teacher
"What intrigued me the most from my visit with Domtar was how science and math were integrated into a single, industrial (yet surprisingly ecological) space," Stafford said. "Domtar seemed really interested in how teachers could help them find local talent and help students build the soft skills necessary to maintain a productive and enjoyable workplace."
Funding for STEMwork is provided by our generous foundation, corporate, and education supporters.
Corporate and Foundation Funders
Meta, the Dogwood Health Trust, the Belle Jar Foundation, South State Bank
K-12 Education Funders
Charlotte-Mecklenburg Schools, Moore County Schools, Scotland County Schools
Individual Funders
John Atkins, John Hardin, and Tia McLaurin
---
Support for STEMwork also comes from the NC companies and industries that open their facilities to K-12 educators.
ABB Pinetops, AirWing Films, Barnhill Contracting, Biltmore Farms, Blue Mountain Flavors, Bosch – BSH, Campbell Soup, Cape Fear Museum, Chatsworth Products, Conserving Carolina, Corning, Inc., Domtar, Duplin Winery, Fairystone Fabrics, FRC East, Glen Raven, Grover Gaming, Harrah's, LabCorp, NSG, NC State University Williamsdale Farm, Siemens Energy, Southern Appalachian Wilderness Stewards (SAWS), Spiritus Systems, Trane Technologies, US Cold Storage