RALEIGH, N.C.⸺The Kenan Fellows Program for Teacher Leadership (KFP) at N.C. State University is pleased to announce it has been awarded a $1 million grant to serve as the K-12 education partner for N.C. A&T State University's STEPs4GROWTH clean energy workforce training program, sponsored by N.C. State Energy Office, N.C. Department of Environmental Quality.
Over four years, KFP will select 32 educators for this initiative. The eight Kenan Fellows selected for the 2023-24 fellowship are from various school districts across North Carolina. Kenan Fellows are K-12 public and charter school educators in North Carolina who develop leadership skills to establish industry-education connections in their local communities, thus illuminating regional career pathways for students.
The 2023-24 STEPs4GROWTH Kenan Fellows are:
Savannah Brown, Hunters Creek Middle School, Onslow County Schools
Matthew Yaeger, Topsail High School, Pender County Schools,
William Prettyman, Innovation Campus, Martin County Schools
Jason Wade, Ayden Middle School, Pitt County Schools
Shavon Via, Eastlawn Elementary School, Alamance-Burlington Schools
Trey Nichols, Vienna Elementary School, Winston-Salem/Forsyth County Schools
Tempsett Harrison, Mallard Creek High School, Charlotte-Mecklenburg Schools
Wyounda Horton, Druid Hills Academy, Charlotte-Mecklenburg Schools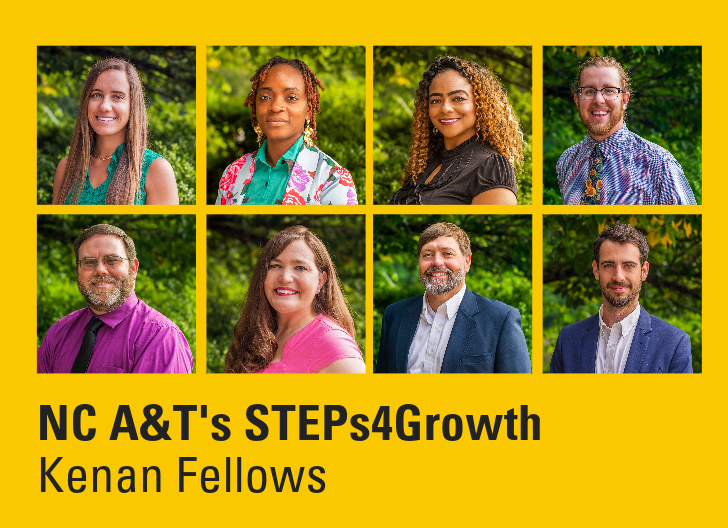 Creating Classroom to Clean Energy Workforce Connections
This summer, the STEPs4GROWTH Kenan Fellows spent three weeks immersed in various organizations, including local community colleges, Bosch Rexroth Corporation, Siemens Energy, and Northeast N.C. Career Pathways. The Fellows partnered with industry and education experts across North Carolina to design curricula and learning resources focused on four key areas: energy efficiency, renewable energy, clean energy vehicles, and grid and storage.
The fellowships are part of N.C. A&T's STEPs4GROWTH clean energy workforce training program has been made possible through a $23.7 million American Rescue Plan Good Jobs Challenge grant. "This initiative aims to fuel the education and workforce of clean energy sector in North Carolina, focusing on equity and removing barriers to access in economically distressed counties," as highlighted by Dr. Ray Tesiero, Principal Investigator (PI) of Workforce Development and Kenan Fellows in Clean Energy Grant, and Co-PI of STEPS4GRWOTH, N.C. A&T State University.
"We are thrilled to be selected as a partner in this important initiative. K-12 educators play a vital role in workforce development, and the selected teachers will lend their expertise and voice to ensure that all students can pursue careers in the growing clean energy sector," stated Vance Kite, director of the Kenan Fellowship Program for Teacher Leadership.